There are different types of chocolate packaging, such as "cardboard-vacuum forming", "cardboard-plastic die-cut box", "plastic die-cut box", "cylindrical box" and "vacuum forming", each of which has its own characteristics.
Of course, there are other methods such as crystal, cardboard and nylon, which are not in our field of work. vacuum-cardboard) which is suitable for chocolate products and confectioneries. Next, we will examine the secondary packaging of chocolate…
Our services in the field of chocolate packaging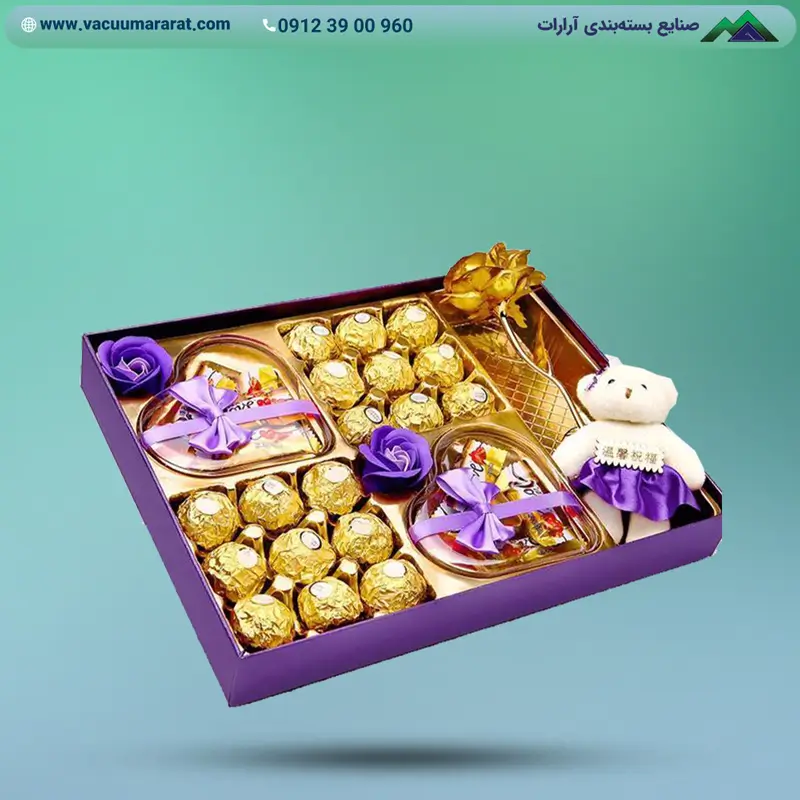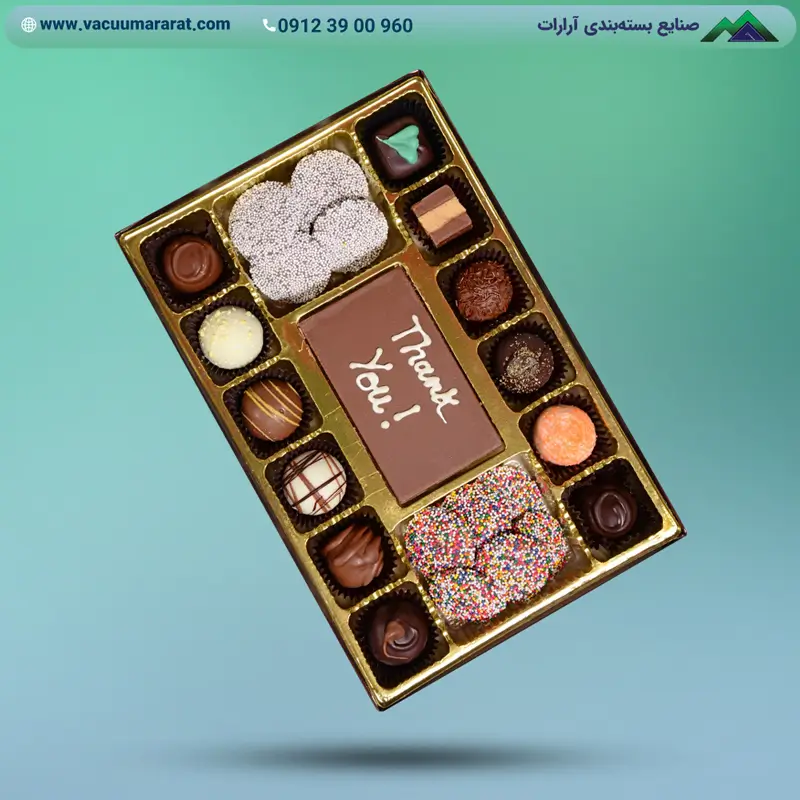 Types of chocolate packaging
Chocolate has a lot of variety, and there is a suitable packaging for each of them, which we will discuss further.
Cardboard-Vacuum Forming Stand Inside Box packaging
This type of packaging is the same as gift chocolates, you dear ones use them for different occasions.
Vacuum-cardboard packaging consists of three main parts: 1- vacuum formed part (chocolate vacuum stand) 2- Printed cardboard box 3- Cardboard box lid.
This type of packaging is often used for gift chocolates and Usually, the box is decorated with a special print or ribbon, which is suitable for giving as a gift.
The vacuum stand part is made by vacuum forming process, which is placed inside the cardboard box.
Transparent Die cutting box
Transparent Die cutting box is actually a flat sheet that can be used in chocolate packaging. This packaging is similar to cardboard boxes, but it is transparent and the contents inside the box can be seen.
Transparent Die cutting boxes can be made in different shapes such as cube, rectangle, handle box, hanging box, all these boxes can also be provided with printing.
Cylindrical transparent packaging
Cylindrical packaging consists of three parts, which are: 1- Bottom 2- Body 3- Lid. The bottom is circular and is connected to the body by thermal welding, and the door is placed on top of the cylindrical body, which can be opened and closed. The bottom and lid are made by
vacuum forming
process and then combined with the clear plastic body.
This type of packaging is completely made with the vacuum forming process and is mostly used for packing dry fruits, smarties, patterned chocolates, etc.
Cardboard-Transparent Die cutting box
This type of packaging is in the form of cardboard, but it is designed in such a way that the lid or part of the body is cut and a transparent talc is placed in its place so that it can be seen inside the box.
Benefits of chocolate packaging
Chocolate is one of the lovely and delicious foods that play a very sweet role in the good moments of our life! The following can be presented:
Protecting chocolate from heat
Essential role in sales (especially gift chocolates)
Creating an interactive atmosphere and advertising
branding